UNESCO Chair on Education for Human Development and Solidarity among Peoples
UNESCO Chair on Education for Human Development and Solidarity among Peoples
Launch of the Futures of Education Report
On Wednesday 10 November at 13.30, the third global report on the future of education entitled "Reimagining Our Futures Together: a new social contract for education", prepared by the International Commission, will be presented at the 41st UNESCO General Conference.
This launch event will present the key ideas and recommendations of the new flagship report to Member States, and begin the mobilization of the global education community and UNESCO's strategic partners to advance the global debate and action on the future of education.
To follow the event via live streaming click here.
UNESCO Chair on Education for Human Development and Solidarity among Peoples
La Casa della Pace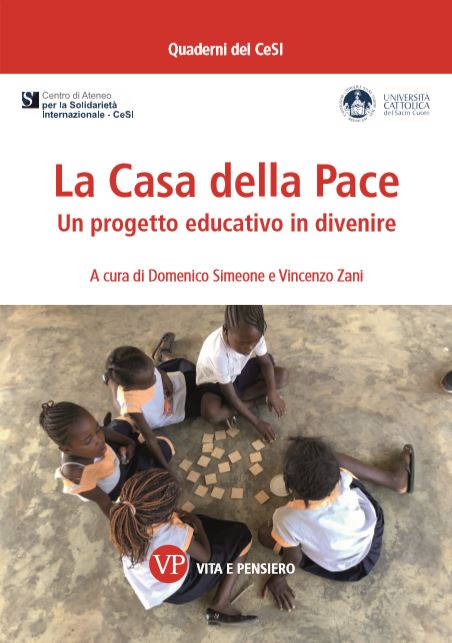 The volume presents the experience of Maison de Paix: an international cooperation project promoted by Associazione S.F.E.R.A. in collaboration with the UNESCO chair of Università Cattolica with the aim of supporting, through education and training, the empowerment of the local community on the outskirts of Kikwit, in the Democratic Republic of Congo.
"La Casa della Pace" (The House of Peace) aims at making its own contribution to the realization of the "Global Compact on Education" to which Pope Francis invites us, investing in the formation of young people to support new development models.
Discover the book HERE.
Discover the projecst HERE.
Project "Take my hand" - final event
In December 2020, the project "Take my hand: school in action, an inclusive society on the rise" was concluded. The lead partner of the intervention is the NGO CBM Italia Onlus. The project has contributed to the dissemination of a culture of inclusion, sensitive to the issues of disability and diversity.
During the final event, the publication "Take my hand: empathy and solidarity in the days of COVID-19" was presented. The publication is based on the report of evaluation of the activities conducted by the UNESCO Chair of Università Cattolica del Sacro Cuore. Prof. Domenico Simeone, Director of the UNESCO Chair of Università Cattolica also spoke in the final video of the project.
Get more information on the project HERE.
Watch the closing video HERE.
Course "Training for International Cooperation" - New edition
On line the program of the new edition of the "Training for International Cooperation" Course, promoted by Fondazione "Giuseppe Tovini" and Fondazione Museke Onlus Foundation in collaboration with the UNESCO Chair of the Università Cattolica, Università degli Studi di Brescia and the Fondazione "V. Chizzolini" ONLUS – Diritti dell'Uomo e Cooperazione Internazionale.