Biological Risk Assessment in food: from research to application
20 maggio 2016
The BIOSAFE Summer School is an opportunity open to PhD candidates and graduate, aiming at: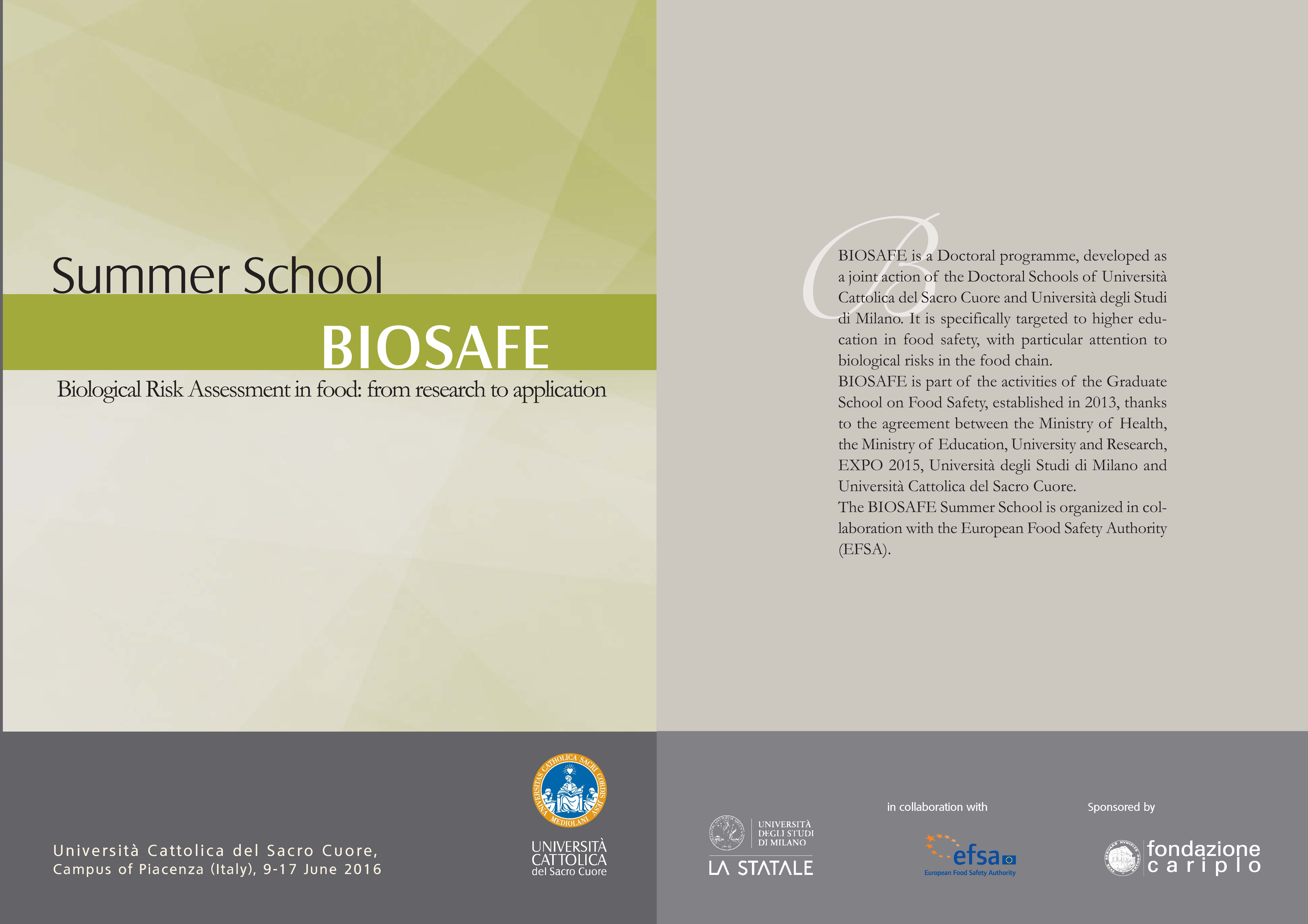 examining the role of risk assessment in the risk analysis framework
presenting the EU approaches for risk assessment, which particular attention at the biological risks
discussing the relevance of scientific research for the Risk Assessment in food at national and supranational levels analysing the role of regulatory science for food safety in a global scale
connecting the future generation of risk assessors from EU and neighbourhood countries
bringing together young scientists and EU bodies involved in food safety
Experiential learning, seminars, case studies involve students in open discussions on Food safety. Furthermore, participants present, in a specific session, the results of their research activities.
Duration/Location
9-17 June 2016 Residenza Gasparini (Piacenza) and two meetings in EFSA (Parma). Università Cattolica will provide:
free accommodation for the whole duration of the summer school, including breakfast
free Welcome Dinner
free WiFi at the Summer School venue
free Summer School materials

The Faculty
The faculty is composed by academic staff of the two organizing universities, by EFSA officers and by academics and scientists with outstanding experience in food safety.

Participants
The Summer school is specifically devoted to PhD students at their last year of study and to recently PhD (max 2 years after thesis defense). The participation is open to PhD students and graduates from EU countries, from Candidate-Potential Candidates Countries (Albania, the former Yugoslav Republic of Macedonia, Montenegro, Serbia, Turkey, Bosnia and Herzegovina, Kosovo) and neighbourhood countries (Algeria, Egypt, Lebanon, Palestine, Armenia, Georgia, Libya, Syria, Azerbaijan, Israel, Moldova, Tunisia. Belarus, Jordan, Morocco, Ukraine).

How to apply - Deadline
Application shall be submitted to Università Cattolica del Sacro Cuore - E-mail: biosafe.summerschool@unicatt.it shall contain:
Curriculum vitae including relevant publications
Title and topics of the PhD research/thesis
A motivational letter
A picture of the applicant

The deadline for applications for the summer school is May 20, 2016. Applicants from universities of BIOSAFE project must coordinate their application with their institutional coordinators. All applicants will be informed about the selection of participants in late May. The working language of the summer school is English; therefore, a sufficient understanding and ability to express oneself in this language is required.
For any question or issue please write to biosafe.summerschool@unicatt.it - For more information click here