Participants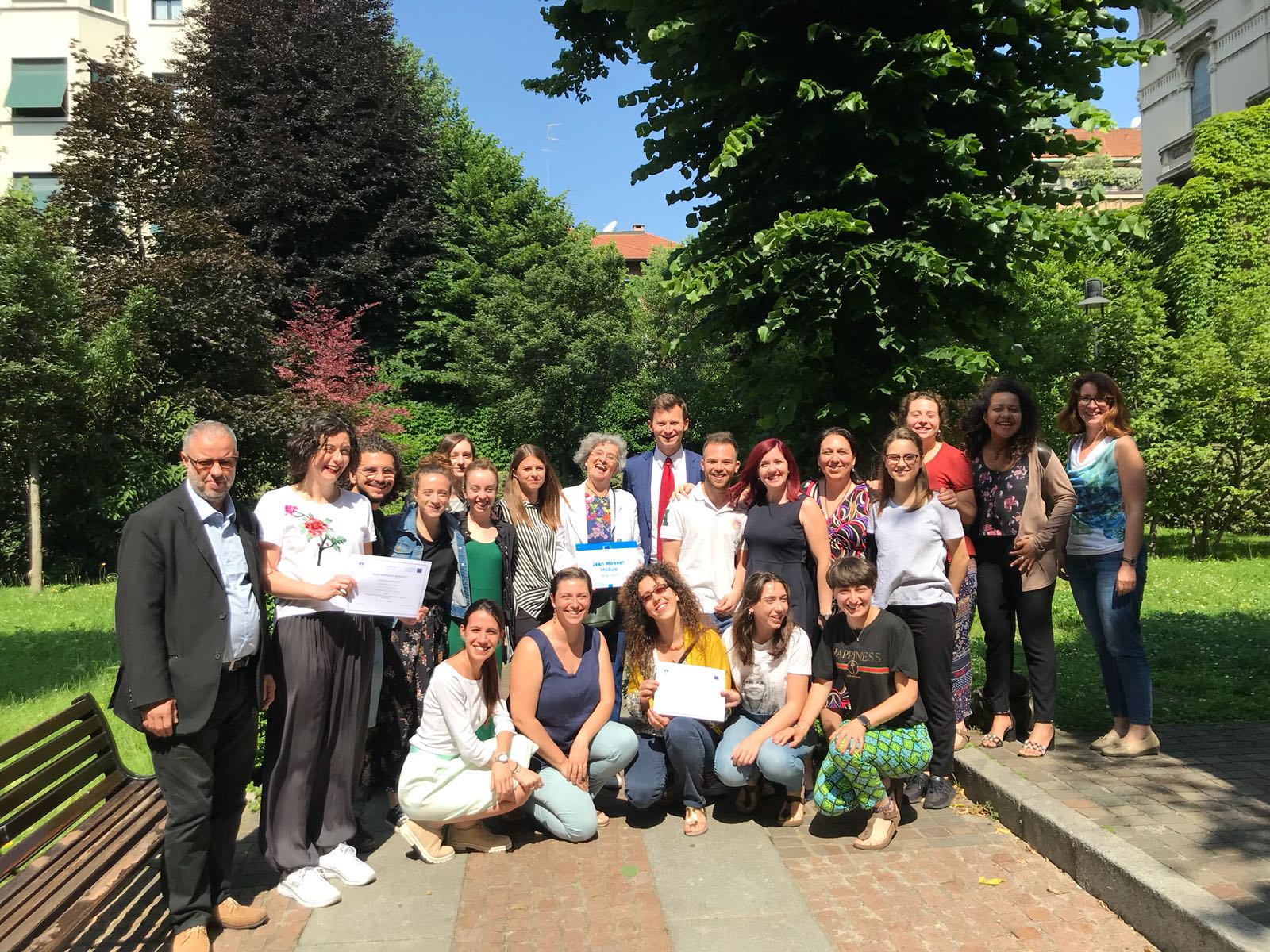 "Whom is JMM IDEAL addressed to?"
The Module is designed for graduate students from UCSC Milan, Brescia and Piacenza campuses, from the Faculty of Education (Master, Master of Science, PhD), for international students, for graduate students from other faculties and Universities, and finally for anyone interested in the topic.
How to register:
UCSC students may take the course by adding it to the study plan in following the usual procedure through ICATT

Students from outside UCSC can register by sending an email to:
FLORIANA CONTE
Global Engagement and International Education
floriana.conte@unicatt.it
PARTICIPANTS LIST 2018/19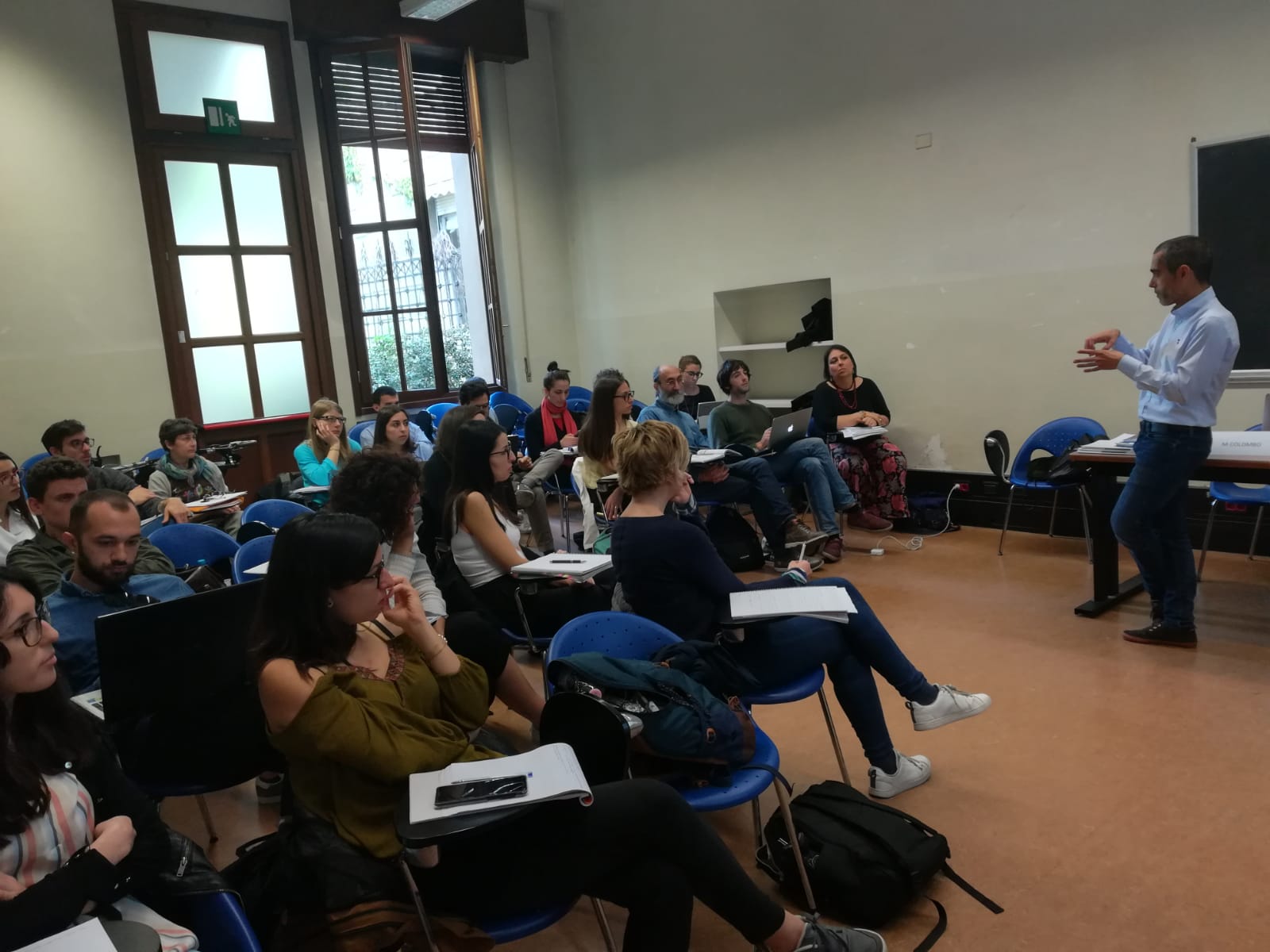 IRENE ARCAINI
I am 29 years old. I got a Master's Degree in International Relations at "Alma Mater Studiorum" University of Bologna five years ago. After completing my studies, I started working as an intercultural mediator in a reception centre for refugees and asylum seekers in Cremona, my hometown. I've worked in such a centre for about four years. I'm currently enrolled in the specialization course in Intercultural Competences at UCSC in Milan.
VALENTINA DEBORA BERTANI
I'm 24 years old. I graduated in social work at the Bicocca University, in Milan. Now I'm attending the Intercultural skills Master at the Cattolica University. I will start my internship at the "Bassa Soglia" service of the Padri Somaschi Foundation in June.
SILVIA BEATRICE BROCCHI
Last year I graduated in Verona where I attended the Master Degree in "Governance of Emergencies". My thesis focused on the human rights defense approach and, in particularly, it deepened the immigration issue and the policies related to its control. After a few time (and till now), I started working as a legal operator in a reception center. In November I enrolled in the "Intercultural skills" specialization course that, moreover, gave me the possibility to do an internship in an NGO.
GRETA BRUSCO
Hello everyone! I am a 22-year-old student and I graduated in Social Service at the University of Asti (AT) - UNIUPO. I am studying in a master's degree in Immigration, gender, family models and intervention strategies at the University of Pavia (PV), I am also working in a SerT (drug addiction and addiction services) and in a drop in (low threshold service) in Asti.
I'm finally studying to prepare for the state exam and become a qualified social worker.
ELENA CALONEGO
I'm 46 years old. I have a bachelor degree in Science Communication Studies, taken last year at the University of Pavia. I'm really interested in politics and migration flows and gender equality, this is the reason why at the moment I'm attending a course post Degree called "Immigration gender family models and strategies for integration". I'm also a volunteer at Avis, and I recently worked with children and older people. At the end of this course I'd like to continue in intercultural studies by attending the Master's Degree in African and Asian History at the University of Pavia.
ARIANNA CAPELLI
My name is Arianna Capelli and I am a 23 years old Italian student from Bologna. I graduated at Bologna University a year ago, where I studied Foreign Languages and Literature (English and Arabic, to be specific). Right now I'm living and working in Bologna while I'm attending a part-time master in Intercultual Skills at UCSC in Milan.
BEATRIZ CARVALHO
Ciao! I'm 19 years old and I'm from Portugal. I'm taking a bachelor in Communication at Universidade Católica Portuguesa. I'm really glad that I decided to learn more about the European Union. I think everyone (specially the EU's citizens) should learn more about this topic!
ALESSANDRA CRIPPA
Alessandra Crippa, 23 years old from Italy. I completed my bachelor's degree in Education and Training at the UCSC in Milan. I am currently enrolled on first year of Educational Planning and Development of Human Resources at the Catholic University in Brescia. In September, I am going to Barcelona as an Erasmus exchange student for six months. I chose to attend the Jean Monnet Module to improve my multicultural skills in the promotion of value in differences as educator and European Citizen as well.
SERENA DENTI
I'm 23 years old, I graduated last year in Education Sciences at Bergamo University and now I'm attending the Master in Intercultural Skills at the Catholica University of Milan. I worked as an educator in a kindergarten and last year I worked in a shelter for asylum seekers. Now I'm doing training in a cooperative that accompanies young guys and girls arrived in Italy with family reunion.
MARIANA EMIKO FUZISSAKI
37 years old. I have graduated in History at Pontifícia Universidade Católica in São Paulo. I was attending Philosophy at University of São Paulo when my husband, our daughter and I decided to come to Italy in 2017. In Brazil, my first professional experience was as a museum educator. Then, I have worked as a History teacher at public and private schools for more than 10 years. I have decided to do the Master of Intercultural Skills at UCSC of Milan because I am looking for another professional perspective.
VALENTINA GALBUSERA
I'm 25 years old and I'm from Milan. I graduated last year in Social Sciences for Globalization at the University of Milan and now I attending the master in Intercultural skills at the UCSC. In this period I'm doing an internship with unaccompanied migrant minors in a social cooperative, La Cordata, which offers social and educational services in the area of Milan.
MARTINA GUERINONI
Martina Guerinoni is a PhD candidate (XXXIII edition) in the field of Theatre Studies at the Department of Communication and Performing Arts, UCSC Milan. Her research topic is social theatre as best practice for the inclusion of migrant women. She collaborates with CIT (Centre of Culture and Initiatives on Theatre, UCSC Milan) and is part of the University Research "Migrations/Mediations. Arts and Communication as Resources for Intercultural Dialogue". She is also a social theatre trainer, working especially in schools and intercultural contexts.
DIANA IGNATYAN
I am 23 years old and I am from Russia. I graduated in international relations at Moscow State Institute of International Relations. Now I am studying in a master program in global politics. I came to Milan to do an exchange program and to practice my Italian. I am interested in global affairs and especially in European politics. This module is a perfect opportunity to learn more about Europe.
VALENTINA LO MONACO
I am Valentina Lo Monaco, I am 33 years old and I live in Milan. I graduated in Media Languages in 2009 and then I worked for 6 years in the commercial field. Two years ago I quit and I started working as a freelance translator. I am now attending a master in Intercultural Skills at the UCSC of Milan and I am having an internship experience as Italian second language teacher for migrants.
FRANCISCO LIMA
I am Francisco Lima , I am from Portugal and I am 21 years old. I am doing the ERASMUS + , the cultural mobility and learning program , during 5 moths. I am taking my bachelor of media and communication studies in second year at the Universidade Católica Portuguesa, in Lisbon. In the future I want to work on something related to international journalistic institutions and television. With this IDEAL course I will be able to see a better context in Europe today. I'm interested in culture and the history of Europe.
NICOLO' MORETTI
My name is Nicolò. I am 32 years old and i come from Switzerland. I studied political science and international relationship in UCSC in Milan. I decided to develop a first class master in intercultural competence. Jean Monnet courses is a beautiful opportunity to study in deep the situation and evolution of migration and intercultural dialogue.
FEDERICA PIZZOGOTI
I'm Federica Pizzigoti and I was born the 12 June 1995 in Faenza, near Ravenna. Here is where I live and where I did all my academic studies, as the high school in Human science. After my diploma I started a degree course in Social work at the University of Bologna, finished the 25 October 2018. Because of my studying and some volunteering experiences I decided to improve my intercultural skills and start the Master "Competenze interculturali - Formazione per l'integrazione sociale".
PAULL SCHALL
I am 21 years and currently doing my semester abroad at UCSC. I am studying PPE - Politics, Philosophy and Economics, an interdisciplinary, Intercultural and international program at Karlshochschule International University. Coming from this Background, the Jean Monnet Module convinced me from the first moment on. I appreciate the large and diverse amount of professors, as well as the well curated range of topics. This, and the seminar-like approach based on in-class participation helps me to really get an understanding for these issues, and encourages me to think beyond!
SUSANNA SPEZIA
I am Susanna Spezia and I am 23 years old. I am graduated in Education Sciences. In October 2017 I started attending Pedagogical Consultancy for Disability and Marginality at the Catholic University in Milano. I study consultancy because I like this area and it stimulates me. I'd like to help the difficult ones to play in different situations. I am a girl with DSA and this faculty helps me to go further and overcome some difficulties that I encounter. In Milan I live in a college of the University and this is a very positive experience. This year I decided to partecipate in Jean Monnet to develop new skills in the field of migration and integration of different people, especially new skills in European Union's issues.
FELICIA SURIANO
I'm Felicia Suriano, I'm 24 years old and i'm from Faenza. I graduated in Social Services in Bologna in 2017 and now i'm attending the specialization course in Intercultural skills at UCSC. Next month i will star a traineeship as social assistant in an education project for migrants.
ALEKSANDRA WILKOSZ
I am an Erasmus student from Poland. In my home university I am taking the Bachelor degree in "Family Studies". In UCSC I've broadened my knowledge in sociology, psychology, global ethics and culture with the special vulnerability to the heritage of families and the meaning of family in different cultural contexts. What is the basis of Intercultural Dialogue and cooperation in particular in Europe. The IDEAL module was a great opportunity to reach a unique experience and crucial knowledge in that area.
PARTICIPANTS LIST 2017/18
AMADEO FRANCESCA - First year PhD candidate in Sociology, Organizations and Cultures at the Catholic University of Milan. I have a sociological background and a master degree in Social Policies and Services for children, families and communities. From 2017 I collaborate for a social district of south Milan and I deal with social policies and projects, with a special attention to vulnerable families and children and women who suffered violence.
ANSELMI ANAY, 24 years old. I have a degree in Education science and I'm currently studying Pedagogic consultancy for disability and marginality at the Catholic University in Milan. I'm a volunteer and a trainer at Libera Associations Names and Numbers. Last year I've participated at the MUN Rome, a simulation of the United Nations work sessions, in the UNHCR committee representing Bolivia. This year I decided to take part in the Jean Monnet Module in order to enlarge my vision hoping to eventually use my acquired competences at an international level.
BARBESINO FRANCESCA - I'm 22 years old. I took my degree in Social Sciences for Globalization last year attending the University of Milan. Now I'm attending the Master in Intercultural skills and I'm doing training with unaccompanied migrant minors and another training in a social-promotion association in Baranzate.
BELTRAMINO CHIARA - I am a 23 years old student and I graduated in Cross-cultural Communication at the University of Turin. I am studying in a Master program in Intercultural Skills at the Catholic University and I am also doing an internship with second generation teenagers in a non-profit organization situated in Milan suburbs.
BRAS MARIA João - I am 21 years old and I come from Portugal. I am in the second year of the bachelor of media and communication studies in Universidade Católica Portuguesa. I came to Milan for six months as part of the Erasmus + program. I am passionate about journalism. The Jean Monet module gave me a more clear knowledge about Intercultural dialogue and Europe Union issues that is going be very useful in my future as a journalist.
CAVENAGHI VIRGINIA - I'm 23 years old and I live in Pessano con Bornago, province of Milan. I have High School diploma in Languages (English, French and Spanish) and I graduated in Education at the Catholic University of the Sacred Heart. I spent two years volunteering as an after-school educator and one year as an Italian teacher for foreigners at the "Istituto Beata Vergine Addolorata" in Milan. Some months ago I was a volunteer at a Social Cooperative called "Il Sorriso", a place in which there are people with disabilities and social disadvantages. During my adolescence, I chose to make different life experiences such as the "Week of the World" and a missionary experience in India with the desire to meet and build relationships with people of different cultures and religions. Now I'm working as a project manager in which I'm teaching Italian to 3 girls from Perù, El Salvador and Philippines; I am doing also an internship in a mother and child community. Finally I'm the responsible of an animation team for children at the Theological Seminary of Monza.
CEDONI MARIA CELESTE - I was born in Gardone V.T. (BS), in Italy, on 18th of June 1994. I studied at Liceo Moretti in Gardone V.t. and especially I studied psychology, pedagogy, sociology and philosophy, but at university I studied linguistic mediation (Russian, German and English) at Università del Sacro Cuore in Brescia. Now I'm studying Intercultural competences in Milan, at Università Cattolica del Sacro Cuore. In this moment I am intern at a Sprar office in Sarezzo (BS) and I am a volunteer: I collaborate with a social association writing newspaper articles on the topic of women and cultural diversities and distributing food in Rome to homeless with a charity organization.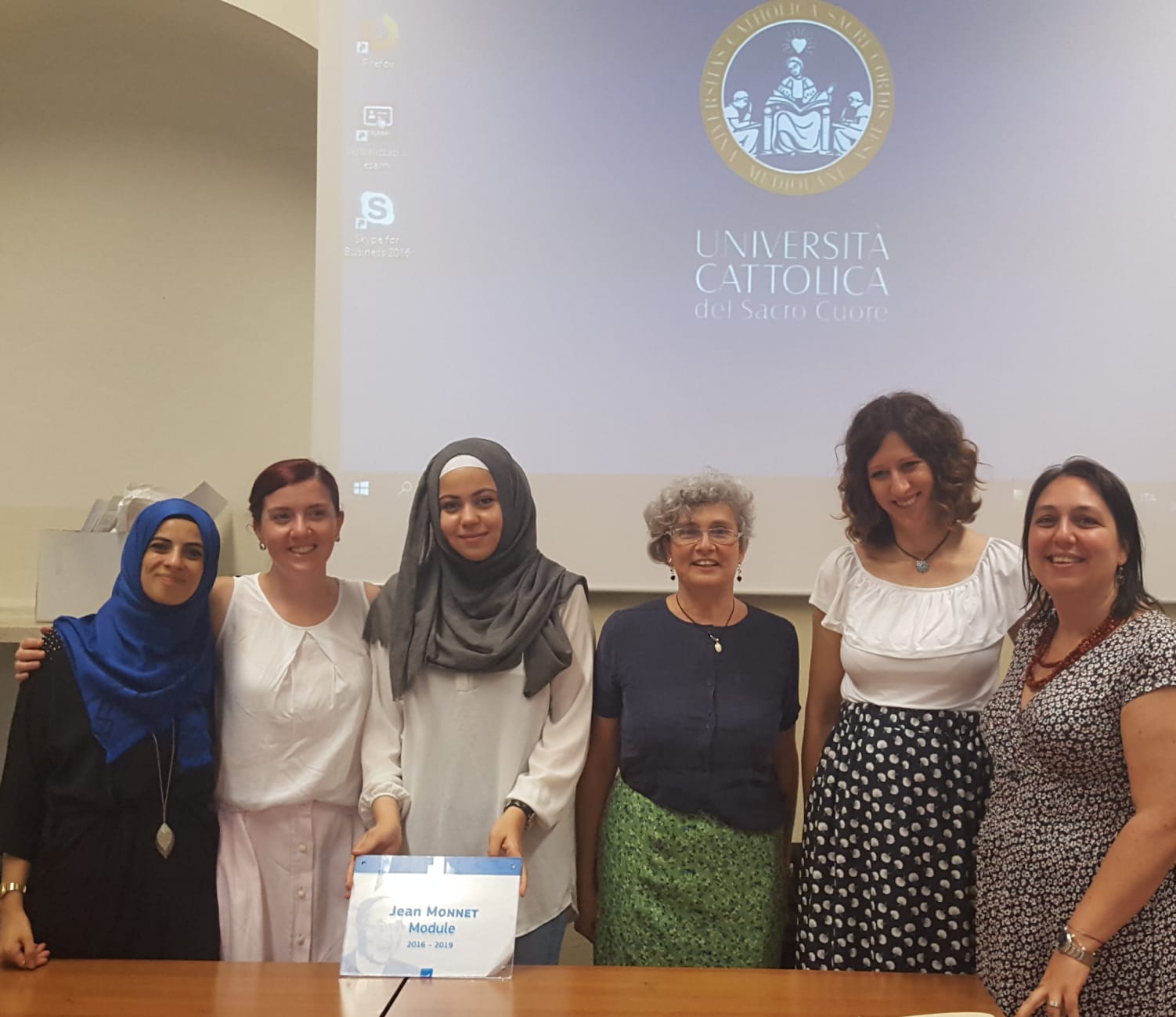 CHRIDI ABDELLATIF - I am 54 years old and live with my family in Italy, where we feel perfectly integrated. I received good, solid education (bachelor's degree in business management in 1991) and I am an intellectually curious man who would always like to learn something and to experiment in new fields. Since I consider myself lucky, I try to do my best to make other people feel better from any viewpoint, so I was one of the founder and I am one of the managers of the former Islamic Culture Centre, now the "Il Faro" foundation, located in Saronno; furthermore, I taught and am still teaching the Arabic language free. My very good relational skills, my knowledge of French and English and the fact that I master Arabic and Italian help me a lot in my contacts with other people, which I consider fundamental for intellectual enrichment.
CORVINO CHIARA - Ph.D Scholar developing a research project on sport and social inclusion of immigrants at the Psychology Faculty of the Catholic University of Milan; ASAG collaborator in sport for social inclusion projects evaluation; master degree in Psychology and psychologist specialized in "Sport and Psychosocial Intervention" at ASAG Psychology School.
DESIDERI AGNESE - I'm a first year PhD student in Sociology, Organizations and Cultures at the Catholic University of Sacred Heart in Milan. I hold a Bachelor's degree in Sociology and Social Policies obtained in 2013 at the School of Political Sciences "Cesare Alfieri" in Florence and a Master's degree in Educational Sciences, obtained in 2016 at the IREDU (Institute for Research in the Sociology and Economics of Education), University of Burgundy, in France. My research area is the sociology of education. I'm especially interested in educational processes and educational policies. I worked on drop-out students and related social policies and also on school autonomy. I'm actually working on social inequalities at kindergarten.
GRAZIOLI RICCARDO - Inclusive finance expert, he deals with microfinance tools and collaborates with the Research Centre for Economic and Monetary Policy of Catholic University (Italy). He is coordinator and manager of the research project «Measuring Microfinance Impact in the EU. Policy Recommendations for Financial and Social Inclusion» funded by the grant Eiburs (EIB University Research Sponsorship) of the European Investment Bank Institute. He holds a MSc in Economics and is PhD student in Sociology at Catholic University.
LODI RIZZINI CHIARA - Phd candidate in Sociology, Organisations and Cultures at Università Cattolica del Sacro Cuore, Milan. Her research focuse on welfare state; social innovation; social exclusion, especially housing deprivation.
MIRCEA NICOLETA - I am a 40 year old woman, of Romanian descent. I'm the proud mother of two children, a 9 and a 3 year old. I like to say that I put into practice my intercultural skills every day, not purposefully, but out of sheer necessity. I come from a multicultural family, my husband being Colombian and myself, Romanian. We make a mixed couple. The beauty of it is the fact that we are raising our children in 3 different cultures and our heritage is very important to us. Therefore, we are doing our best to treasure it and teach it to our offspring. I have lived in Italy for 10 years now and dedicated most of my time to motherhood. I have also done private tutoring for different language schools (The Wall Street Institute, The Language Academy), due to my CELTA certificate ("the Cambridge English Language Teaching to Adults' Certificate"). In Romania I have taught English and French for 7 years in public schools (middle school and high school). I have traveled extensively to South America, Colombia in particular. Thus I grew to know this country pretty well and I am to consider it my second adoptive country (the first one being Italy, of course). I travel a lot in Europe as well. I have a huge curiosity for everything which is different from my own language and culture. I like to help the others, make myself useful, build relationships with people of different cultures, make the others "feel at home". I consider that it is high time now, reached this point in my life, to redefine myself. This is why I am certain that this professional Master's programme is going to give me the "starting kit" allowing me to begin a profession in the intercultural field, perfectly in line with my previous experience and knowledge.
PAPPALARDO MAURIZIO - I'm 24 years-old and I study Pedagogy in Catholich University in Milan. I'm deaf and I use media to make the formation accesible. I decided to partecipate in "Jean Monnet-Module" because the pillars of UE are: Liberty, Justice, Dignity, Egaulity, Solidarity, same Rignt. I know and i can confirm its. Thanks UE!
RACCAGNI DALILA - I'm 25 year old. I am in my first year of the Italian PhD Program in Science of the Person and Education - Education curriculum - at Università Cattolica del Sacro Cuore of Milan. The topic of my research is the implementation of a narrative and autobiographical method approach in the formative process; in particular my goal is to interpret how the migration voyage influences the educational choices in the immigrant family and the reactions that consequently teenagers can have
ROSSI FEDERICA - Hello everyone! I am 23 years old. I graduated in Education, and then I chose to follow my passion and specialize in the field of adult education. I am working with teenagers and I am doing an apprenticeship in a training office. I'm a sportswoman: I like running both individually and with an amazing team of runner friends. I always put new challenges and new goals to be achieved with determination.
SORIANI CHIARA - I am 24 years old and I live in Varese. I graduated in Social Work at the University of Turin and, soon, I will support the state exam to be able to practice as a social worker. Currently I conduct a master's degree in Intercultural competences at the Catholic University (Università Cattolica del Sacro Cuore), in Milan; the decision to undertake a new educational path was born from the experiences of the university internship in the homeless shelter of the social services office of the City of Turin and from volunteer trips in Africa. In addition, I am involved in an internship in a center for asylum seekers at the Fondazione Somaschi and I work with the association Nessuno Escluso with which we go ahead educational projects in primary schools related to the issues of migration and reception of foreigners.
SOTTOCORNO DARIO - Counselling psychologist with a background in social neurosciences, mindfulness meditation teacher and student at Master's Degree in Intercultural competencies, I consider myself an activist working for a small NGO in Rome. I'm focused on intercultural group interventions for psychosocial support in the migration sector. I'm offering my first mindfulness meditation program for activists and social workers, while organizing/playing in a dance theatre project based on Shakespeare's 'Tempest' and supporting the mutual self-help Group every Monday with my colleagues. At the same time, I'm coordinating 'protected admissions' of migrant people in international volunteer work camps, in collaboration with Service Civil International.
ZAFFARONI LORENZO - I joined Università Cattolica del Sacro Cuore in 2017 as a PhD candidate in Sociology. My research interests span economic sociology, cultural sociology and the sociology of art. Right now I'm particularly interested in studying the processes of cultural production and status formation in various societal fields. Prior to joining UCSC, I studied Sociology at the London School of Economics where I worked on a research project about trust formation on Airbnb.
ZANZOTTERA CRISTINA - Born in 1983, a degree in "Languages, cultures and International communication", in English and Arabic, Cristina has been working with ISMU Foundation (Initiatives and Studies in Multiethnicity) since 2007. Here, for the Education Area, she has taken part in many research-action national and European projects aimed at fostering migrants integration and active citizenship. Her interests are in the field of intercultural pedagogy and teaching, as well as in the learning and teaching process of Italian as an additional language. Since 2007 she has been working as a teacher of Italian L2 for pupils, adolescents and adults with a migrant background. For her future, she would like to go on experimenting interculture, in particular as an Italian teacher and as a teacher trainer, working across "practice" and critical reflection coming along with the intercultural experience in the field.
PARTICIPANTS LIST 2016/17
AKIN AYBERK - I am from Izmir, Turkey. I achieved my bachelor in Izmir and I am currently doing master in Economics at Università Cattolica. I am interested in sociology and international relations as well. I am expecting to learn about Europe and its institutions more deeply.
DANIELA BANI - I come from Albania. I studied at the University of Tirana, Faculty of Foreign Languages, Bachelor in Italian Language, Literature and Civilization. For two years I have bene working in the Social Center "Santa Marcellina" as a Teacher, after-school study with children. At the same time as an animator in the Summer Camp. Currently I'm assistant in kindergarten and elementary school. I see this Master as an opportunity for my future and to put in practice all the knowledge to help those who have emigrated like me.
SILVIA BELLENCHIA - I'm 25 years old. I take my degree in Linguistic skills and foreign literature 4 years ago. I worked as an english teacher for primary school for two years. Now I'm attending the Master in Intercultural skills and I'm doing training with unaccompanied migrant minors.
CLAUDIA CARISSOLI - She is a PhD student in Educational Science at Università Cattolica del Sacro Cuore of Milan. She graduated in Economics in 1993 and in Psychology in 2013. She is interested in designing and testing Positive Interventions supported by ICT to promote individual resources (managing stress, reducing anxiety, relaxation, positive emotions, emotional intelligence), such as the mobile app Benessere Mamma, dedicated to mother-to-be psychological wellbeing. Her PhD research project aims to use new technologies, like commercial videogames, to help adolescents improve emotional intelligence and anxiety management.
DESIRÉE CATONE - Hi to everyone! I'm 25 and last year I graduated in Intercultural Communication. I studied Chinese for 4 years and now I'm teaching Italian to Chinese people. During this years I worked with children from 0 to 10 years and I taught Italian as a member of a private association.
IZABELA CHALATKIEWICZ - Hi, I am 21 years old. I am from Poland. I am studying Special Education. Last year I took part in a SCI work camp, which are international voluntary projects. Also during the previous year I attended an intercultural workshop. I understand the importance of an intercultural dialogue and of teaching both students and parents about its meaning and impact for our future.
ANDREA CONSONNI - I'm 29 and I live in Milan. I studied Social Service Science at Catholic University in Milan. During the studies I served an internship at the "office for refugees and asylum seekers" of the Comune di Milano. In 2013 I got my degree. After that I worked for four months as ADM (home-care minors). For the last three years (2014-2017) I've worked for a cooperative called "Farsi Prossimo" in the immigration field. In particular I've worked in a centre for refugees and in a community called "Casa dell'Amicizia" that hosts unaccompanied minors. This year I've decided to restart to study to increase my professional skills. At the moment i'm attending a master in International Cooperation at Catholic University, and at the same time I'm taking part in ISPI summer school in "Cooperation and Development".
NOEMI FILOSI - Graduated in Psychology and Learning Sciences at University of Bologna and is currently a Social Educator. During her university years she lived and volunteered in a house for women that were victims of trafficking and helped build a dormitory for migrants and homeless people. She is currently working in a refugee shelter located in Trento and is attending a master course in "Intercultural competence and work for social integration" at UCSC in Milan. Her view is that every person must work every day for an intercultural society, against racism and discrimination.
ALICE FUMAGALLI - I'm from Milan and i am 27 years old. I've got a degree in "dietistica". I'm working like and educator with second generation migrants. I'm attending the master in Intercultural skills and science for social integration.
SARA INCAO - She has a bachelor's degree in Media Languages, she's now attending the first year of a master's degree in philosophy. She has a significant experience in the Arts sector after an active participation in projects promoted by non profit cultural organizations and she is also intensely involved in the European situation and strategies to enhance intercultural cooperation.
JASMIN LAGHA - I'm a student of Cattolica University in Milan. I'm doing my master degree in Pedagogical Sciences and I decided to attend this class because I'm interested in the process of identity and citizenship building in Europe, and in the future I would like to work in the Italian educational system in this way.
ELLA LUKKARI - I'm 23 -years-old girl from Finland. I'm studying the master of society sciences and now I'm doing my Erasmus in Università Cattolica. I love travelling and getting to know different cultures.
MARZIA PAGANI - I have a degree in Foreign Languages and International Relation, I'm attending a Master degree in Intercultural Skills and I'm doing an internship in a cooperative that deals with migration issues in particular with asylum seekers.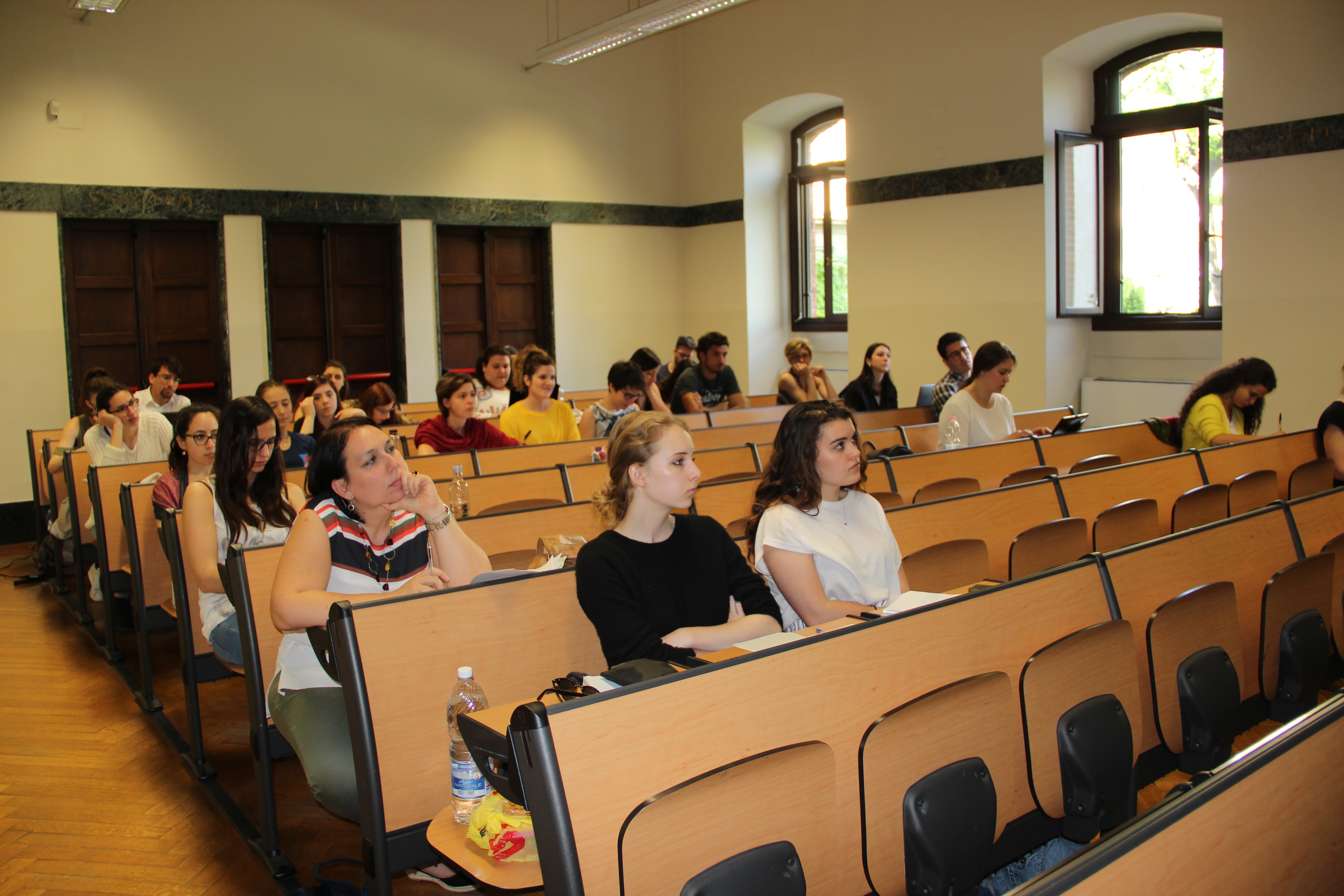 DANIELLA PALAZZO - Hi, I am finishing my last semester of my undergraduate degree here in Italy. I come from Australia and I am studying a Bachelor of commerce majoring in business law. I am very interested in international law and relations and hope to pursue a career in this direction in the near future. I would love to work between Europe (Italy in particular) and Australia, this is my ultimate dream.
STEFANO VASSENA - I'm 25 years old and I come from Malgrate (Lecco), on the Lake of Como; I am a journalist and, in the last three years, I have been working in the field of communications. I hold a Bachelor's Degree in "International Studies and European Institutions" released by Università degli Studi di Milano; I had an Erasmus experience for 9 months in Madrid, Spain. I'm currently enrolled in a Master at Università Cattolica of Milan about cooperation and development.
CLAUDIA RIZZACASA - Hello, I'm an Italian student. I graduated two years ago at the three year of Social and cultural education at the Alma Mater Studiorum, University of Bologna. Now I'm attending the last year of my degree in Pedagogical advisory for disability and marginality at the Catholic university.