Lectures notes
Papers and presentations of the lessons of the IDEAL module will be available on the Blackboard platform of the course.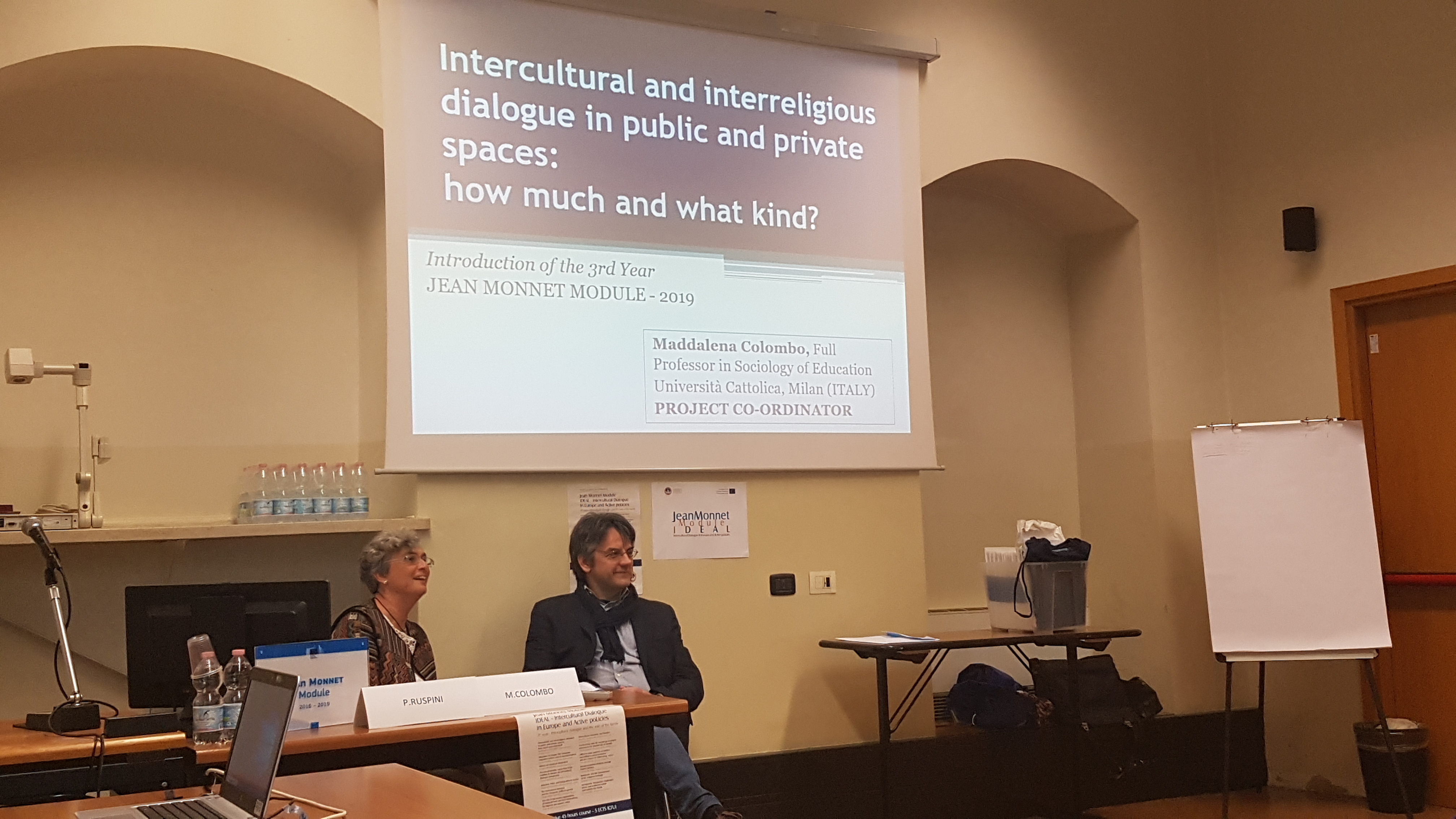 LECTURERS NOTES
PREVIOUS STAFF PUBLICATIONS
Amadini A. (2015), Transition to parenthood and intergenerational relationships: the ethical value of family memory, "Ethics and Education", 10(1), 36-48.
Bekemans L. (2018), Europe's Destiny is at a stake, Bruges (paper).
Bekemans L. (2013), Globalisation vs Europeanisation. A Human-centric lnteraction, Bruxelles, PIE Peter Lang.
Colombo M., Kantzara V., Van Houtte M., Sebastião J., Brereton B. (eds.) (2013), Monographic Issue Pluralism and diversity management in education. Socialisation, school choices and the governance of schooling, in "Italian Journal of Sociology of Education", 5(2).
Colombo M. (2016), Education and Citizenship between Decline of Charism and Need of Educational Anchoring, in "Italian Journal of Sociology of Education", 8(1), 87-101.
Colombo M. (ed.) (2018), CIRMiB MigraReport 2018. Lingua per tutti, strumento di cittadinanza, Milano, Vita e Pensiero.
Colombo M. (2018), The impact of Ethnicity on School Life: a Cross-National Post-Commentary, "Italian Journal of Sociology of Education", 10(3), 187-200.
Dines N., Montagna N., Ruggiero V. (2015), Thinking Lampedusa: border construction, the spectacle of bare life and the productivity of migrants, "Ethnic and Racial Studies", Vol. 38 (3), pp.430-445.
Gerolin A. (2015), Oltre il 'feticismo del codice': per quale visione dell'identità e della cittadinanza?, "Rivista di Filosofia Neo-Scolastica", 1-2, pp. 383-388.
Gerolin A. (2017), Uno strappo alla regola. In dialogo con Taylor, Williams e MacIntyre su beni e norme, Milano-Udine, Mimesis.
Gerolin A. (2018), Etica e interpretazioni della secolarizzazione: problemi e percorsi, Milano-Udine, Mimesis.
Gòmez A. et al. (2017), The devoted actor's will to fight and the spiritual dimension of human conflict, "Nature Human Behaviour", vol. 1, september, 673–679.
Molinari P. (2016), L'espace dans la lutte contre la pauvreté au Québec: quel rôle dans les politiques régionales et dans les pratiques territoriales?, in Gavinelli D., Molinari C. (dir.), "Espaces réels et imaginaires au Québec et en Acadie: enjeux culturels, linguistiques et géographiques", Lingue Culture Mediazioni/Languages Cultures Mediation, "La collana/The Series", 139-151.
Molinari P. (2014), Marginalisation spatiale et protection sociale locale dans le nord-ouest de l'Italie, in Boulineau E., Bonerandi-Richard E., La pauvreté en Europe. Une approche géographique, Rennes, Presses Universitaires de Rennes, 163-176.

Mora Castro A. (2016), La diversidad cultural: modelos de gestión y retos para la convivencia, en Pacheco A., Navarro Á., de Bartolomé J.C. (eds.), La actuación policial en la diversidad social y cultural: buenas prácticas ante el racismo, la xenofobia y la discriminación, València, Tirant lo Blanch, 71-95.

Mora Castro A. (2016), La institucionalización de la violencia como obstáculo para la convivencia intercultural, en Solanes A. (ed.), Diversidad cultural y conflictos en la Unión Europea. Implicaciones jurídico-políticas, València, Tirant lo Blanch, 139-160.
Mora Castro A. (2013), El Real Decreto-Ley 16/2012 y la negación del derecho a la asistencia sanitaria a los inmigrantes indocumentados: un análisis crítico desde la perspectiva de los derechos humanos, en Actas del IV Congreso de la Red Española de Política Social (REPS), Las políticas sociales entre crisis y post-crisis, Universidad de Alcalá,1041-1050.
Pizzetti B. (2017), Progetto Dòsti: dialogo interreligioso e integrazione, Tesina del Master in Competenze Interculturali,
Pusztai G., Ceglédi T. (eds.) (2015), Professional Calling in Higher Education, Nagyvárad, ÚJ MANDÁTUM.
Pusztai G. (2006), Community and Social Capital in hungarian Denominational Schools Today, "Religion and Society in Central and Eastern Europe", vol. 1(2), 1-17.
Pusztai G. (2011),Schools and Communities of Norm-awareness, in "Religions", 2, 372-388.
Ruspini P. (2014), The Transformative Character of International Migration and its Impact on Integration Practices and Learning Needs, in F. Bignami, M.G. Onorati (eds.), Intercultural Competences for Vocational Education and Training. Experiential Learning and Social Contexts for Enhancing Professional Competences, Milan, Egea, 89-98.
Ruspini P. (2019) Migrants unbound? Transnationalism, immigrant integration and return processes, in M. Czaika, L. Rössl, F. Altenburg, A. Faustmann, T. Pfeffer (Eds), Migration &

Integration 7. Dialog zwischen Politik, Wissenschaft und Praxis, Reihe DialogForum Integration,

Krems: Edition Donau-Universität Krems, pp. 65-74.
Ruzza C. (2013), Civil Society Actors and EU Fundamental Rights Policy: Opportunities and Challenges, in "Human Rights Review", 1-17.
Ruzza C., Fella S. (eds.) (2012), Anti-racist movements in the European Union: between Europeanisation and National Trajectories, London, Palgrave.
Santagati M. (2018), Education, in Cesareo V. (ed.), The Twenty-third Italian Report on Migrations 2017, Milan, ISMU Fondation, 55-64.
Santagati M. (2016), Interculturalism, education and society: Education policies for immigrant students in Italy, "Australia and New Zealand Journal of European Studies", 8(2), 2016, 6-20.
Santagati M., Colussi E. (2019), Alunni con background migratorio in Italia. Tra emergenze e traguardi, Report n. 1 ISMU/MIUR, Milano, Fondazione ISMU.
Santagati M., Zanzottera C. (2018), Education: A Challenge for Intercultural Cities, in Villa M. (ed.), Global Cities and Integration. A Challenge for the Future, ISPI, Milano, Ledizioni, pp. 77-104
Santerini M., Intercultural Competence teacher-training model: the Italian experience, in OECD, Educating Teachers for Diversity: Meeting the Challenge, Paris, 2010, 185-201.
Santerini M., Committee on Equality and Non-Discrimination, Parliamentary Assembly, Recognising and preventing neo-racism, Strasbourg, 2015.